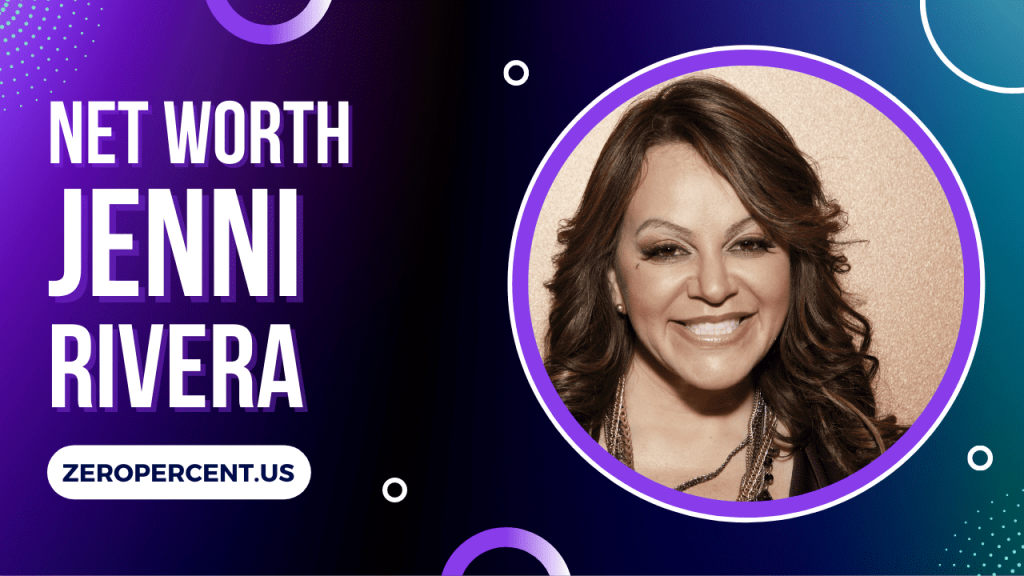 | Full name | Jenni Rivera |
| --- | --- |
| Date of Birth | July 2, 1969 |
| Date of Death | December 9, 2012 |
| Age | 43 years |
| Height | 1.55 M |
| Nationality | American |
| Occupation | Singer, Songwriter, Tv Actress |
| Mother | Rosa Saavedra |
| Father | Pedro Rivera |
| Siblings | Lupillo Rivera, Juan Rivera and Rosie Rivera |
| Spouse | Esteban Loaiza, Juan López and José Trinidad Marín |
| Children | Jacques Campos, Chiquis Rivera, Michael Rivera, Jenicka and Johnny |
| Net Worth | $25 Million |
| Religion | Christian |
Jenni Rivera was a Mexican-American singer, philanthropist, songwriter, TV producer, actor, and entrepreneur. She is most recognized for contributing to America's regional Mexican music scene. Rivera had carved her own niche style into the traditional Banda, Ranchera, and Corrido music styles. Her signature contemporary twist to traditional Mexican music earned her the title of
"La Diva de la Banda" and "La Primera Dama del Corrido."
Jenni Rivera is Latin music's biggest success story – and its most significant tragic tale. This iconic Latin pop sensation's life was studded with career milestones that she achieved in just two decades, with the odds stacked against her, while also living a private life full of ups and downs.
Jenni Rivera Biography
Jenni was born Dolores Janney Rivera Saavedra to her mother Rosa Saavedra and her father Pedro Rivera in 1969 in Long Beach, California. Although her family was deep into the regional Mexican music scene, being a singer was not Jenni's plan.
Jenni came from a big family with five siblings, excluding herself: brothers Pete Rivera, Gustavo Rivera, Lupillo Rivera, Juan Rivera, and sister Rosie Rivera. Her parent's musical influence led to all her brothers being well-known Latin artists.
However, Jenni Rivera's career started quite late. Jenni Rivera, as a teenager, was a bright student but got pregnant in high school at the age of fifteen. Luckily, her school counselors encouraged her to complete her high school education, after which she went on to obtain accreditation in business administration from Long Beach City College.
Recommended to read: DJ Citizen Jane Net worth and Biography
Jenni Rivera Career
While employed at her family music company Cintas Acuario, Rivera used her business administration degree before deciding to make her own music.
Initially, Rivera found it challenging in the traditionally male-dominated banda scene. However, she persevered, releasing independent albums like her tribute album to another female Latina artist Selena Quintanilla.
Jenni Rivera's musical recognition was cemented with her third record from a major music label translated to 'Bury Me With The Band,' released in March 2000. The album included the song 'Las Malandrinas,' a tribute to her female fans, which blew up on the radio.
Rivera went on to release eleven studio albums in her career. She achieved many milestones, such as her album 'Jenni' going Number 1 on Billboard Top Latin Album Chart, a total of twenty-two Billboard Latin Music Awards, eleven Billboard Mexican Music Awards, two Billboard Music Awards, and eighteen Lo Nuestro Awards.
Besides these, she also made reality television shows like 'I Love Jenni,' 'Chiquis 'n Control,' and 'Chiquis & Raq-C.' Besides all these achievements, she made herself a businesswoman, owning the brands Divina Cosmetics, Jenni Rivera Fragrance, Jenni Jeans,  Divina Realty,  and Divine Music.
Recommended to read: Jack Harlow Net Worth, Height, Age, Biography, Family, and Career
Jenni Rivera Personal Life
Jenni's resounding career success was contrasted by troubles in her personal life. Of Jenni Rivera's husbands, not one out of three could keep her. All of her three marriages ended in divorce.
Jenni's first married Trino Marin in 1985, while still in high school at 15. She had three children with him: Janney, born in 1985; Jacqueline, born in 1989; and Michael, born in 1991.
Jenni's marriage to Trino ended in 1992 based on emotional and physical abuse. Trino was also accused of sexual molestation to Jenni's younger sister Rosie and her daughter as well. He ran from the law for 9 years before his arrest. He was awarded a 31-year prison sentence for his crimes.
Jenni later married Juan Lopez in 1997 and had two more children with him, Jenicka and Johnny.
Jenni stuck with her second husband through a tumultuous time, including his arrest because of drug smuggling but divorced him due to his infidelity six years after their marriage. Juan passed away in prison due to health complications.
Jenni tried her luck at love a third time in 2010 with pro baseball player Esteban Loaiza. This marriage also did not last beyond two years. The legal proceedings for the divorce never got completed due to Jenni Rivera's sudden death.
Jenni Rivera Kids
Jenni Rivera had five children from the two of her marriages. Her eldest child Chiquis Rivera was born on 26 June 1985. Now 36, Chiquis followed in her mom's footsteps and pursued a career in music. She has three albums to her name and roles in some reality television shows.
Jacques Campos was born Jacqueline Rivera in 1989. She has been married to Michel Campos since 2012 and has a musical career like her sister and mother.
Michael Rivera, born in 1991 to Trino and Jenni, veered into a different part of the art world. He is a painter by profession and has participated in many high-level contests.
Jenicka Lopez is Juan Lopez's eldest child with Jenni. She was born on 3 October 1997. At age 24, she is an internet personality on Instagram and YouTube, where she showcases her makeup skills as a beauty guru.
Jenni Rivera's youngest son Johnny was born on 11 February 2001. He is also a musician like his mother and uncles.
Recommended to Read: Steven Michael Burns Net Worth and Biography
Jenni Rivera Net Worth
Jenni Rivera had a net worth of around 25 million dollars when she died in December 2012. Her earnings were from royalties from her music, her work as a television producer, and her various entrepreneurial ventures. Her family also released a posthumous album, likely increasing her net worth.
Jenni Rivera Death
Jenni Rivera shocked the world with her sudden death on December 9, 2012. She traveled on a jet with six other passengers to Toluca, Mexico, but her plane crashed near Monterrey. Jenni Rivera's plane crash left no survivors.
She left behind a legacy of a bold, strong woman who was an inspiration to Latinas as she spoke about her personal issues in her music, like single motherhood, sexual abuse, and infidelity. She challenged the deep foundations of machismo in traditional Mexican music and will forever be remembered as an icon.
Recommended to Read: Keemokazi Net Worth – Biography, Family, Love Life of TikTok Star
FAQs About Jenni Rivera
What is Jenni Rivera's birthday?
Jenni Rivera was born in 1969. Her birthday is celebrated on 2 July. This makes her an astrological sign of Cancer.
How many kids did Jenni Rivera have?
Jenni Rivera had five kids in total. Their names are Janney, Jacqueline, Michael, Jenicka, and Johnny. She had kids with her first and second husbands only.
How many kids did Jenni Rivera and Jose Trino Marin have?
Jenni Rivera had three children with Jose Trino Marin, who she married as a young teen: Janny, Jacqueline, and Michael.
How old is Jenni Rivera?
Jenni Rivera was 43 years of age when she passed away. A decade after her death, she would have been 53 now if she were still with us.
When did Jenni Rivera die?
Jenni Rivera died on 9 December 2012. She was on her way to perform at a concert in Toluca, a city in Mexico, when her plane lost all contact.
How did Jenni Rivera die?
Jenni Rivera passed away in a plane crash while flying to perform at a concert. It is thought that the plane pilot lost control, and the plane nose-dived into the ground. There were no survivors in the plane's wreckage that was discovered later.
How many titles did Jenni Rivera get because of her unique music skills?
Jenni Rivera got two titles named "La Diva de la Banda" and "La Primera Dama del Corrido," meaning "The Diva of the Band" and "The First Lady of the Corrido," respectively.