Navigating Uncertainty with the Right Software in 2023: A Guide for Business Growth
As businesses look ahead to the future, they're faced with a number of challenges and uncertainties. The global pandemic has disrupted industries, changed consumer behavior and created new (and very surprising) economic realities. But despite these challenges there are still opportunities for growth and success. By embracing the right software, businesses can navigate uncertainty and 
position themselves for success
.
Project Management Software: A Key Tool for Streamlining Workflows and Increasing Productivity 
Project management software is a critical tool for businesses looking to streamline their workflows and increase productivity. With project management software, teams can collaborate in real-time, assign tasks, track progress and meet deadlines. Asana, Trello, and Monday.com are popular project management software options that businesses can choose from. According to Drift, "The idea to create Trello was formed between the minds of co-founders, Joel Spolsky and Michael Pryor. Their goal was to take the paradigm of a sticky note on a wall and turn this concept into a collaborative, real-time tool. Their goal was to provide people with a clear, fluid, and adaptable understanding of their projects, without getting bogged down by process and structure." A recent study by the 
Project Management Institute
 has proven that organizations that use project management methodologies are twice as likely to meet their goals and deliver projects (big or small) within budget.
But how can project management software help businesses navigate uncertainty? By providing a centralized platform for teams to communicate, collaborate and track progress, project management software can ensure that projects are moving forward – even in the face of hard and unexpected challenges. This can help businesses stay on track and achieve their goals, even in uncertain times.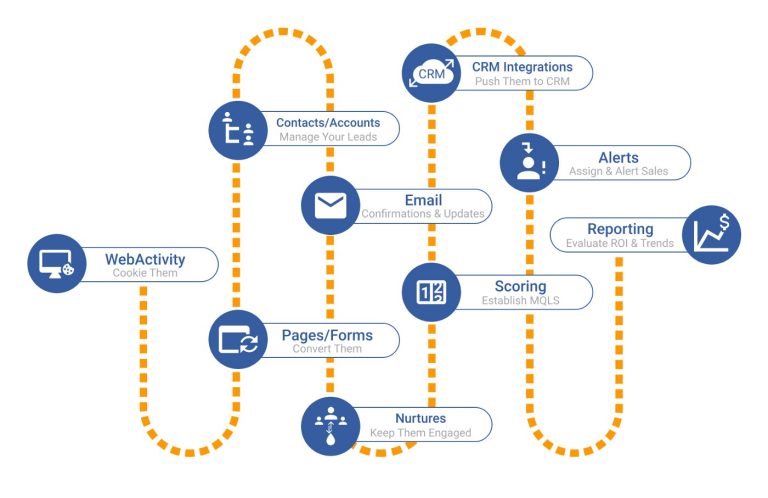 Credits: https://medium.com/@Techfondly/what-is-marketing-automation-72d44559b611
Marketing Automation Software: Boost Lead Generation and Conversion Rates
Marketing automation software
is a vital tool for businesses looking to boost lead generation and conversion rates. Platforms like Marketo, Pardot, and Hubspot provide businesses with the tools they need to automate lead nurturing, email marketing, and more. A recent study by Demand Metric found that businesses that use marketing automation see a 451% increase in qualified leads and a 77% increase in conversions.
But what makes marketing automation software so critical in uncertain times? By automating repetitive tasks and providing insights into consumer behavior, marketing automation software can help businesses stay ahead of changing market conditions and take advantage of new opportunities as they arise. This can be especially important in uncertain economic times when businesses need to be agile and responsive to miscellaneous changes that may come about any minute.
Empower Your Business with the Game-Changing Benefits of Salesforce
Salesforce is a cloud-based CRM platform that helps businesses manage their sales, marketing, and customer service operations more efficiently. Did you know that companies that use Salesforce can see an average ROI of 4:1, according to a study by Nucleus Research? That's because Salesforce can help 
increase sales productivity
 by up to 30% and customer satisfaction by up to 35%. That's pretty impressive! Plus, with Salesforce, you can automate your sales processes, track your customer interactions, and collaborate with your team all in one place. One of the most useful features of this tool that companies greatly benefit from is the option to 
duplicate report in Salesforce
. Many have described it as having a personal assistant for your business! If you want to give your company the edge it needs to succeed, this tool should definitely be on your radar.
As we look towards the future, there's no doubt that navigating uncertainty will continue to be a challenge for businesses of all sizes. But with the right software in place, companies can position themselves for success despite uncertain times. In 2023, companies can leverage software solutions like Salesforce to streamline their operations, automate processes and gain insights into their business data. By doing so, they'll be able to make informed decisions, improve customer experiences, and ultimately, drive growth. So if you are intent on navigating uncertainty in 2023 and beyond, make sure you have the right software in place to help you succeed!