4 Things to Consider When Having a Wedding in Bali
Bali is an island that is vibrant and full of color and culture. It is not surprising at all to find that many couples choose it for their special day. With many unique venues and accommodation options, couples can spend time with their friends and family before and after the wedding and even enjoy a spectacular honeymoon in Bali. Whether the couple opts for a western-style wedding or dives right into the Balinese culture and opts for a traditional wedding, they can uniquely celebrate their love.
A lot of planning is necessary after deciding to get married in Bali. It can be hectic, especially since it is in a different country. However, there are a few things you need to know before planning a wedding in Bali.
1. Proper Planning
One of the most important questions when planning a wedding is whether or not you should hire a wedding planner. Many people are great at organizing their events and can choose to plan their ceremony if they are confident enough in their skills. However, this process would require a lot of time and patience. The couple would need to learn the culture and language and do a lot of research.
Alternatively, the couple can opt to get professional help. While this will cost a reasonable sum, it will also take an enormous burden off the couple's shoulders. It is especially beneficial if the couple would like a Bali wedding, but they don't reside or travel to Bali frequently. They can act as your eyes and ears and perform errands that would otherwise be tedious, from accommodation to locations and budgeting; basically, a wedding planner can help smooth things before the wedding.
When choosing a planner, the couple would need to choose between a planner from their home country and the destination. Each choice has its advantages and disadvantages. However, to ensure that everything goes smoothly despite the choice, select a wedding planner with a good reputation. Check out their websites and be keen to look for reviews and ratings as well.
2. Legal Requirements
There needs to be a religious component in any Balinese wedding. Bali has five main religious groups: Buddhism, Islam, Hinduism, Catholicism, and Protestantism. The restrictions of each of these groups vary; for example, a Catholic couple would need to tie the knot in a church or chapel.
You can ask your local wedding planner for assistance in getting the legal paperwork. The process would generally require visits to the respective embassy and religious institutions. This process can be long and tedious, and it is advisable to start at least four months before the wedding if going through a planner and even earlier if doing everything on your own. Married couples can receive their certificates after a 10-day waiting period.
Some couples prefer to avoid the hustle and bustle of the unfamiliar processes, while others do not want the religious aspect incorporated into their wedding. The best option for such people is to get married in their home countries and have a symbolic wedding ceremony in Bali. These symbolic ceremonies do not require an official celebrant recognized by the authorities. It means that even a friend, loved one, or even the hotel manager can officiate symbolic weddings.
Same-sex marriage isn't legal in Bali, and it would, therefore, be impossible to perform a legal wedding. However, same-sex couples can opt to have the necessary paperwork done in their local countries and have a symbolic ceremony instead.
3. Seasons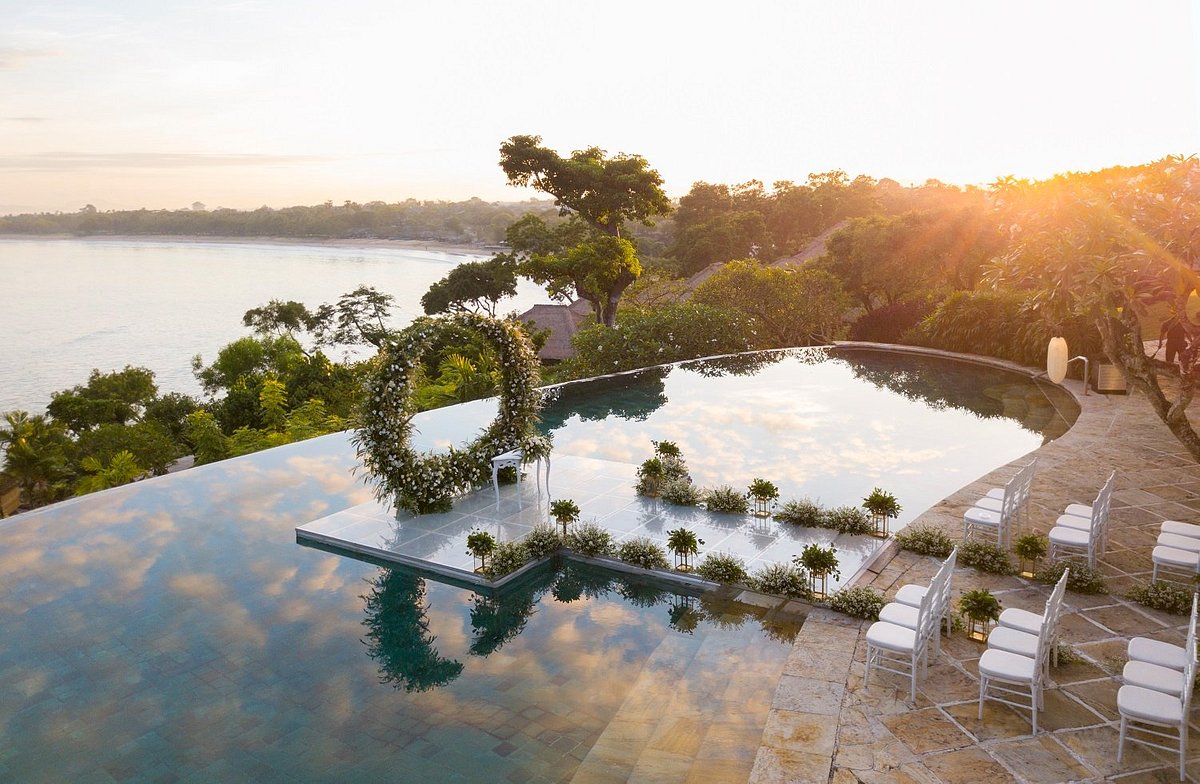 Bali is known for its breathtaking views. Weddings on the beach during the early morning or sunset hours can make for great wedding memories. That's not all; couples can choose venues with piers, cliff-top views, outdoor gardens, or poolside villas as their outdoor locations. Couples hoping to have an outdoor wedding might want to consider the drier months for their wedding. The best times are between May and October. However, couples may also take some extra precautions against the rain by indulging in some Balinese traditions. In Bali, there are traditional priests called, Pemangku. They can pray against cloudy weather and rain on your wedding day. They perform a little ceremony in the venue to dispel all unfavorable weather. It's probably wise to use a forecast as backup!
The couples may also opt for indoor weddings; Bali has many gorgeous venues, from ballrooms to chapels or indoor gardens. Although locals consider rain on the wedding day a sign of good fortune and prosperity, not everyone may feel the same. An indoor venue will help keep you dry, no matter the weather.
4. Budget
Many factors affect the budget of the wedding. A major one is the venue. There are many hotels, resorts, and event venues from which couples can choose. Each of these offers many deals to cater to various budget ranges.
Couples need to consider their guest list when planning a Bali wedding seriously. An underestimation can cause a massive dent in the finances. The guest list determines the pre and post-wedding accommodation costs. The planner can help with negotiations to help bring the total figure down, but it is best to plan within your range. Opt for villas and lower rating hotels if 5-star hotels are too costly.
The number of people present at a ceremony will also determine the total money spent on food and beverages. Options such as a privatized venue for the wedding may ultimately increase costs. Another way to get the most out of a Bali wedding is by taking advantage of packages. Many resorts and hotels provide wedding packages that would benefit the couple.
Wrapping Up
There are many things that a wedding entails when planning for a wedding. Working with a planner and collaborating with the selected venue can be a good way to help take the burden off your shoulders. Learn to be specific about what you want, although it is essential to understand that not everything will be possible.
Be sure to work with a clear budget. Even the little things can take a toll on the total amount. Have a little money on the side to deal with emergencies, damages, etc. Have rehearsals so that everything will eventually run smoothly on the wedding day.